Airpho will officially introduce its new mesh Wi-Fi system, model No. AR-M400, this October during Gitex 2018 and Hong Kong Consumer Electronics 2018 Show. The new Mesh Wi-Fi System is designed to support modern smart home networking, especially for medium and large house. It is believed to be the trend of smart home networking.
The new Mesh Wi-FiSystem comes with a trendy design. The see-through design allows it to well mix into the family background, and be a part of your family decoration. The elegant angle of the product, together with the fashionable light belt, makes the product look modern and smart. If you are looking for a stylish networking product, this would be your best choice.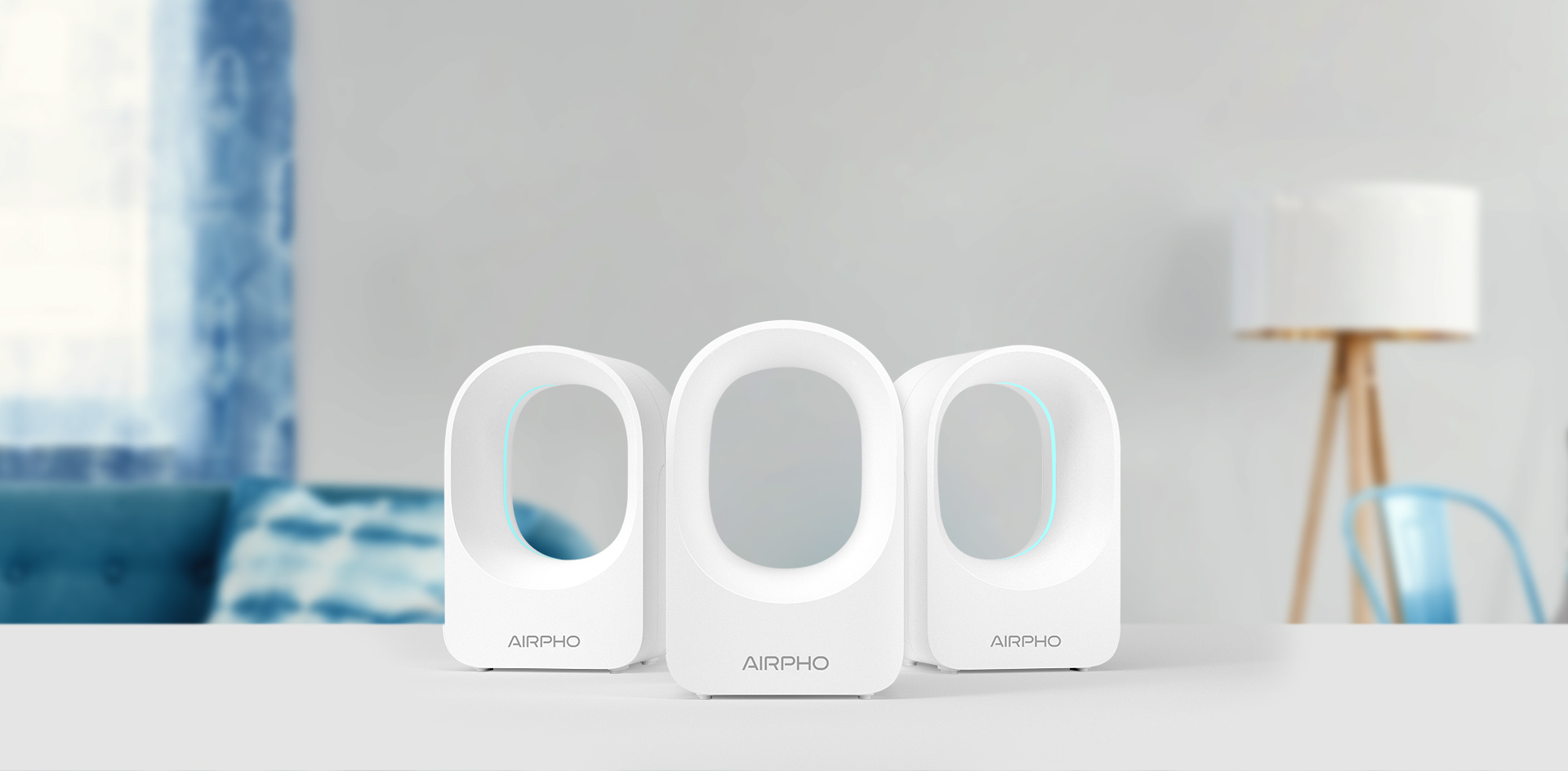 Why Should You Use the Mesh System?
Many people are still using the traditional combination of "Router + Range Extender" to expand home network coverage. However, such a model still exists many problems such as unstable connections, multiple network zones, complicated setup configuration, and difficult management. Replacing your routers and range extenders with a mesh WIFI system can effectively avoid these problems and gives you many benefits.
1. IIntelligent Routing.
In a "Router + Range Extender" model, a Wi-Fi range extender can only extend signals from the assigned wireless router. In cases of unstable connection or connection failure, the Wi-Fi range extender is not able to change its routing to maintain a stable network condition.
However, in a mesh Wi-Fi system, all the nodes connect directly, dynamically and non-hierarchically to each other to efficiently route data from/to clients. The lack of dependency on one node allows for every mesh unit to participate in the relay of information. This also allows the mesh network to self-heal, in another word switch to another optimal routing, when a node breaks down or when a connection becomes unreliable.
2. True Seamless Roaming
Another advantage of the mesh Wi-Fisystem is that it uses one SSID throughout the house to create true seamless roaming. Although users can set the SSID of the Wi-Fi range extender the same as the main router's, the two devices still use different network keys. This will force the device to disconnect from the previous network hub and reconnect to a new network hub during handover, making it longer to switch from the main router's network to the expanded network.
In the mesh Wi-Fi system, all nodes collaborate as one unified network using the same network key. When traveling between different network zones, users feel almost no dropdown during hand over to the next network zone since it takes less than a second to switch to another network hub.
3. Centralized Management
It is complicated to manage your networking devices in a "router + range extenders" model since the settings of your router sometimes cannot synchronize on your range extenders. Therefore, in many cases, you have to do your settings many times on different devices in order to achieve your goals.
Managing your devices in a mesh system is much easier. All mesh nodes are managed through one backstage. This enables you to control all your mesh nodes on one end, and you only need to do one-time setting for all of your mesh units.
4. Easy Setup
Unlike using range extenders to expand coverage where you have to configure your router and each range extenders separately, you only need to configure your main mesh unit one time to set up a mesh network in your house. Once your main mesh unit gets configured, the other mesh units just become simple "plug and play" devices. When you need to expand your network coverage, just add one more mesh unit and plug it into an electricity socket.
| | | |
| --- | --- | --- |
| Differences | Mesh System | Router + Repeater |
| Routing Selection | Automatically select the optimal routing from available options. | Only able to use the assigned routing. |
| Traffic Handle | Each node handles network traffic as a router | Repeaters only pass data and do not handle Internet traffic. |
| Network SSID | One SSID for all network zones throughout the house | Different SSID for different network zone by default. |
| Device Configuration | Only need to configure the main mesh | Need to configure every network device. |
| Management | Centralized Management for all mesh units | Separate management on each device |
Airpho Technology Co., Ltd
Airpho, an innovative network solution provider, offers a wide range of new generation network devices including wireless routers, Wi-Fi range extenders, wireless adapters, GPON, DSL modems, and switches etc., to support smart home entertainment and modern business operations.
For more information, please visit us at www.airpho.com